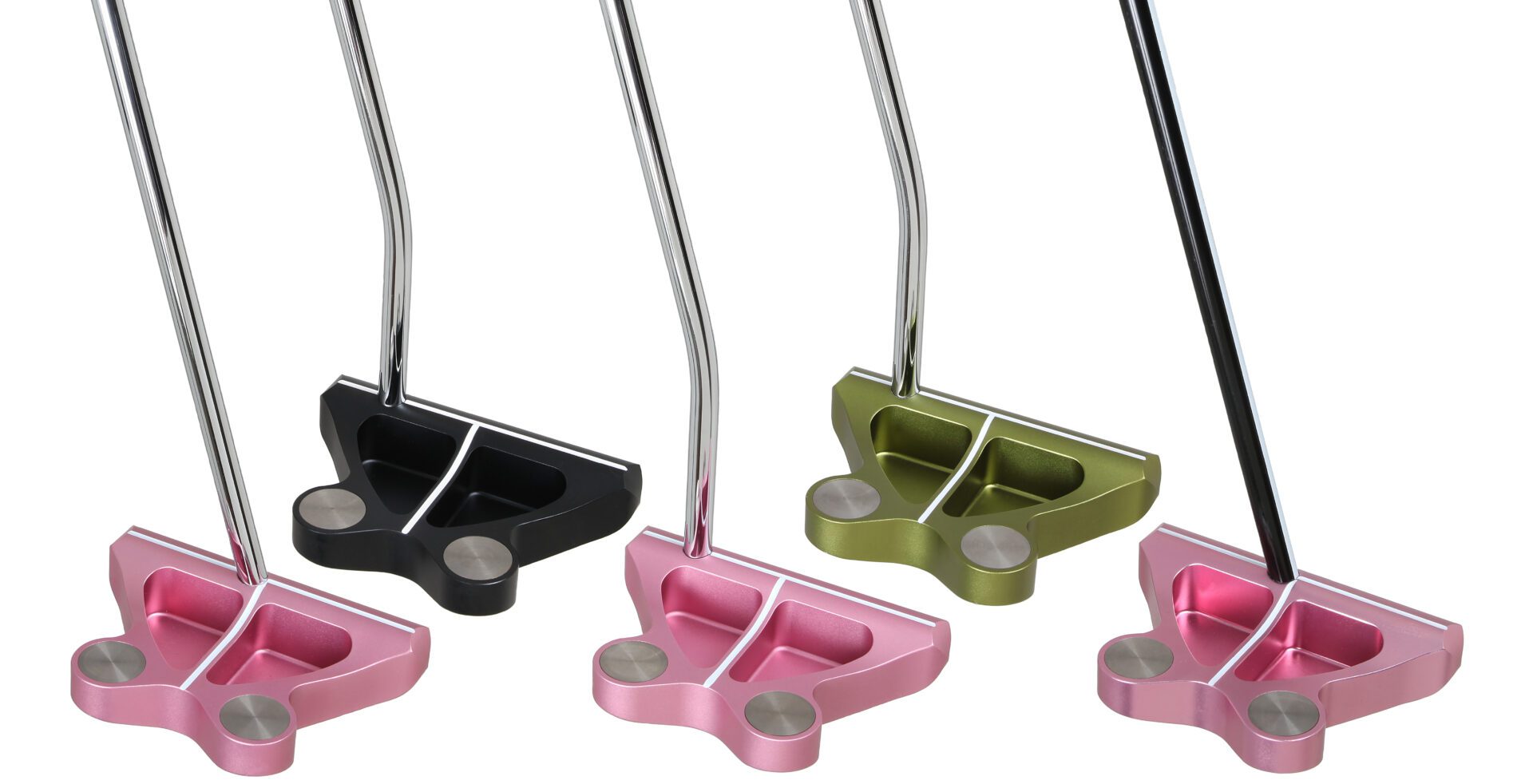 The Original Frankly Frog provides confidence with built in forgiveness, outstanding balance and superior stability!
Stabilize your stroke by taking advantage of perfect balance using advanced technology
Keep your putts online, "The Frog" starts the ball rolling beautifully
Every putt feels sweet giving you ultimate confidence on the green.
Why it works
The Original Frankly Frog putter head is totally machined from a block of 6061aluminium, delivering a soft yet solid feel.
Its design features two heavy tungsten weights, precisely positioned low and behind the face to give it perfect balance and an extremely high Moment of Inertia (MOI), which means it provides maximum forgiveness both across and up and down
the face.
It has a cleverly designed sole which ensures prevents the Frog snagging during the stroke and also accommodates your
preferred lie angle.
It features bold white sight lines from toe to heel and front to back allowing for easy alignment.
Each Frankly Frog is built with a specially designed paddle style grip which feels a little chunky in the hands and comes with a canvas Frog emblazoned headcover with magnetic closures.
You can select from a range of shaft options, either center or heel steel shafts or a center shafted graphite with our Alignment
Guidance System which encourages better alignment and set up.
Center Steel: Delivers a balance view of the Frog head
Center Graphite with Alignment Guidance System (AGS): Making use of his design of the graphite shaft, Frank invented the Alignment Guidance System based on the fact that our eyes are very good at detecting 90 degree right angles. The AGS is a white line that extends from the head up the black graphite shaft and provides a longer reference line to assist you in making sure that the Frog head is properly aligned at 90 degrees to the target line.
It also allows you to make sure that your hands are in the correct position at setup, not too far forward or too far back because
you will see it immediately because of the white line.
Heel Steel: For golfers who prefer to see the complete alignment lines front to back and toe to heel, uninterrupted.
Original Frankly Putters Specifications:
Length: 31". 32", 33", 34" 35" or Custom available
Lie angle: 72 degrees (+/- 5 degrees as the unique radius sole adjusts to the golfer)
Head material: 6061 Aluminium / Solid milled construction / 3 way milled face
Dimensions: 4 inches toe to heel, 3 inches face to back / Face balanced (the putter face will stay square to the plane of your stroke)
Grip: Frankly Golf Paddle style
Headcover: Canvas, embroidered Frog, with magnetic closures
Color Options: Black, Green, Pink
Shaft Options: Center steel, Center Graphite with Alignment Guidance System, Heel steel. All Frogs are face balanced and perform the same way regardless of shaft option choice, as they are all face balanced. Shaft option should be based on personal preference. Availabil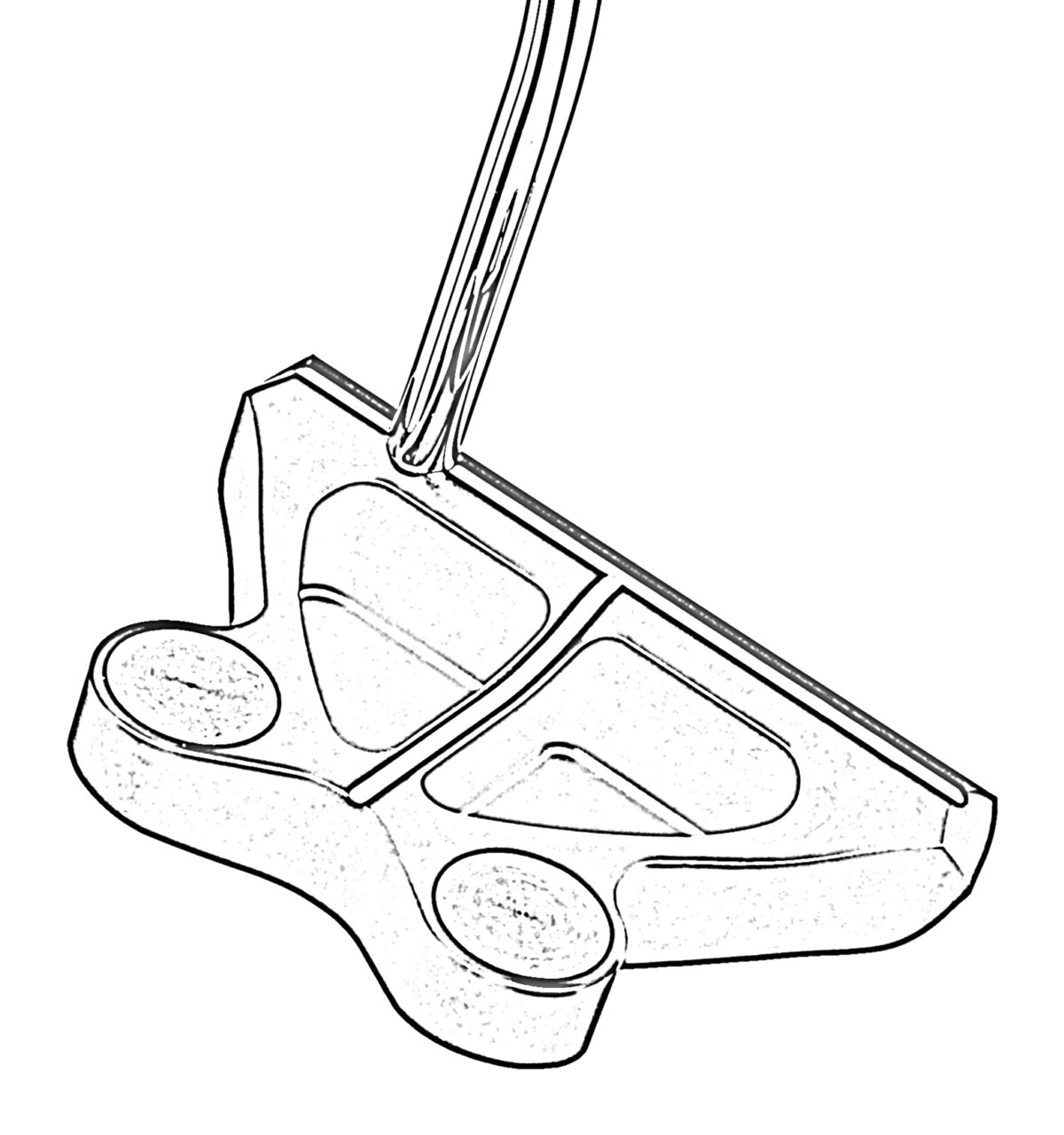 1.
Marker 1
Precision CNC Machined Aluminium Head: For Solid but soft feel
2.
Marker 2
Tungsten Stabilizers: Strategic positioning concentrates weight low and behind the face to deliver perfect balance and unparalleled forgiveness
2.
Marker 2
Tungsten Stabilizers: Strategic positioning concentrates weight low and behind the face to deliver perfect balance and unparalleled forgiveness
3.
Marker 3
Bold White Sight Lines: Easy Alignment
4.
Marker 4
Drag-Resistant Flange: Allows Frog to glide over the green
5.
Marker 5
Lie-Right Radius Sole: Eliminates adjustments by accommodating +?- 5 degrees of lie angle
6.
Marker 6
Milled face: Ensures perfect contact, everytime